As people who work in the field of creativity, we often experience blockage all over our heads. It's the feeling of being unable to do anything or to come up with creative ideas. That phenomenon is what we call burnout.
Do not let burnout prolong and bring further problems. First, you must free your creative team from burnout as a leader. Your team can then continue to explore their creativity more broadly. You can read another article to manage your creative team here.
Burnout is an occupational phenomenon
We mostly experience burnout while we're working. Why does that happen? In 2019, the World Health Organization (WHO) defined burnout as an occupational phenomenon. One of the causes of burnout is working from home due to the impact of the Covid-19 pandemic.
Incidents like this make the boundaries between work and personal life vague. Moreover, due to long-distance communication, social interactions in society and work have also changed. Working hours also tend to be longer because people must divide the time between work and personal life. That kind of activity is tiresome for most people.
Burnout is a sign of mental and physical exhaustion. All the things mentioned earlier turned into pressure and stress that creative workers could not handle. Mental Health UK conducted some surveys in 2021, which stated that 85% of employees felt burnout from working.
According to the survey, burnout has common signs that we can observe:
– Feeling tired all the time
– Feeling helpless, trapped, or defeated
– Feeling alone, detached, or excommunicated
– Showing a negative outlook
– Often doubts themselves
– Often procrastinate on work
– Feeling overwhelmed by what they are doing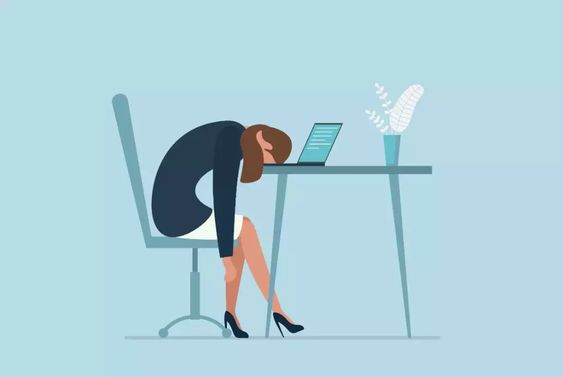 Many causes of burnout can happen
Burnout can occur when our creative workers experience something repetitive. Monotonous activities, the limited scope of work, and less constructive feedback from team leaders or clients can hinder our creativity.
From the results of the Mental Health UK survey, there are several causes of burnout that your creative team can experience, as described below.
– Working remotely
Companies are implementing work-from-home systems because of the pandemic. Many continue this system because of its operational efficiency. However, the creative workers' home and surroundings are generally not always contributive to work. As many as 46% of people feel that working from home contributes to mental fatigue.
– Decreasing physical health condition
Mental health is just as important as physical health, and the two influence each other. For example, 79% of people feel that poor physical health can lead to mental fatigue. In addition, lack of sleep can affect both physically and mentally. But, again, 83% of people agreed about that condition.
– Change in social interaction
The pandemic has changed the way our workers communicate with other people. However, the distance can widen the gap because they can't share stories, hopes, fears, or different personal feelings. As a result, as many as 74% of people feel that relationship problems can cause burnout.
– Money worries
Our mental state depends on our financial situation. When we feel we have enough money or possessions, we tend to feel safe. On the contrary, if we think we are in financial trouble, we will become stressed and depressed. As many as 81% of workers agree that financial problems impact mental fatigue.
Solve burnout before it becomes a big problem
To prevent further obstacles, you can take several steps as a leader to increase the motivation and productivity of your creative team. These steps also take part in crafting visionary leadership.
1. Give the team a creative freedom
Repetitive routines can be one of the causes of burnout. So, try to free your team to be creative so that the ideas poured out are wilder and unrestrained.
2. Stay away from work for a little bit
Give your team a chance to take time off to vacation and do the things they want to do.
3. Engage in physical activity
Invite your team to exercise regularly, either at home or the gym. Exercise helps produce good hormones for the body to feel more positive.
4. Lean on friends and mentors
Sharing stories with others can help ease the burden on your team. Ask your team to share some of their stories with you as a leader, a coworker, or someone they trust.
5. Seek for new environment
Ask your team to shift the atmosphere when working. For example, working in a cafe or a coworking space can help provide new perspectives or ideas for creativity.
6. Try something different
Try a new daily routine to make it a good habit. Such as practicing cooking, pottery, or as simple as taking afternoon walks and capturing beautiful photos while going outside.
Now you know how to direct your team to deal with burnout. Be a leader who understands the members so your team's performance and motivation increase. Don't forget to visit Nice To Meet You Studio on Instagram to find references if your team experiences burnout at work.